Weekly Guest Program for Children and Families
Mountain experience worlds and nature oriented family programm
Families are especially welcome at the Wilder Kaiser region. Six Mountain Worlds, affectionately decorated and each with its own history and charm, make the family offer of the region unique in Tyrol. The offer is supplemented on the mountain by a supervised, nature oriented family program five days a week.

Familienwanderungen
For children usually not the the summit of a mountain is the goal of a hike. Experience one of the many theme trails of the region as the "Rübezahlschnitzweg" or the "Rehbachklamm". Sometimes a good swimming lake or a great adventure playground with views of the mountains is the reward for a hike.

Even for families with small children a few tour suggestions are included. The walks were compiled jointly by families and hiking experts. The Wanderstempel book spurs the hikers and the free bus service Kaiserjet brings all safely back to the Rifflerin.
Rifflerin´s Secret Tip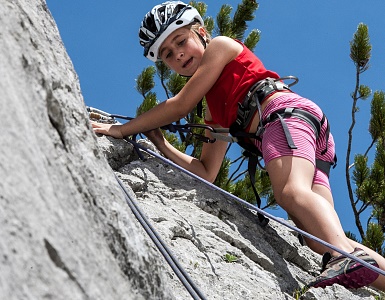 Adventure Climbing for Cchildren (6 - 14 years)
The perfect introduction to rock climbing for the whole family. Meet your certified mountain guide at the tourist office where you get your rental equipment. Together you will drive to Wochenbrunner Alm, the starting point for many climbs. From there you walk to Gaudeamushütte (about 30 minutes) and reach the climbing and exercise rocks after a further 10 minutes. Secure, climbing and abseiling becomes an adventure at the Wilder Kaiser. Ideal for children from 6 to 14 years old! But also parents are welcome to have fun aswell!
Contact:. Club Vertical, Tel +43676613 20 66.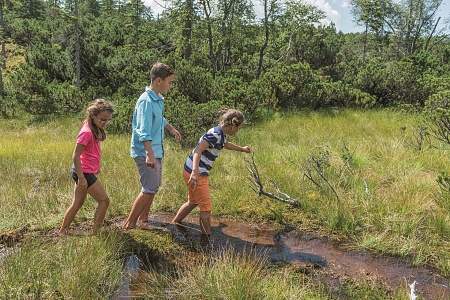 Moor & more Adventure World
The renatured moorlands in an entertaining way combine the experience of unspoiled nature with exciting information about rare flora and fauna. Discover with your children in a playful manner what nature conservation and ecosystem of our region mean on the southern slopes of the Wilder Kaiser! Moor & more offers a forest playground, the "Törfchenrunde", a climbing park and a nature trail for hikers.